Postage Stamps of Italy
by Tony Clayton
---
Occupation of Former Austrian Territories
---
Trento and Trieste <<-- : -->> Italian Occupation of Corfu
Post Offices Index
Main Index
---
Dalmatia
---
Dalmatia continued to use the Trento and Trieste corona overprints until they were replaced in 1921 by similar stamps but with the overprint in a sans-serif typeface, a common cause of confusion. The exception was the 1 corona on 1 lire, which used a 'una corona' overprint from 1st May 1919 rather than the '1 corona' used previously.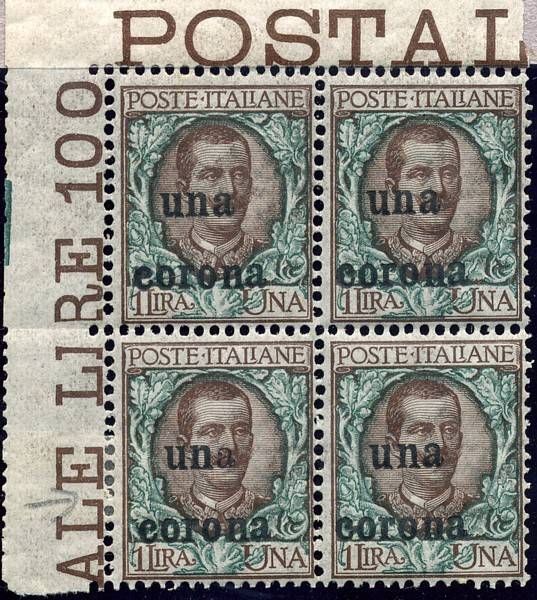 una corona on 1 lire, with an example of the 'small a in una' variety
Sassone 1 and 1b.
50 centesimi di corona
Sassone 5.

5 corona
This stamp is usually badly centered
Sassone 7.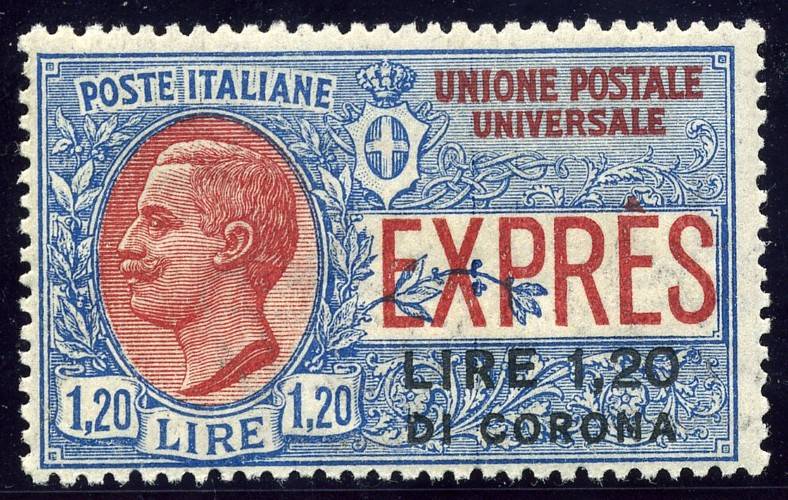 Lire 1,20 di corona Express.
This stamp was not issued as the phrase 'Lire di corona' was incorrect.
Sassone 2.
---
Trento and Trieste <<-- : -->> Italian Occupation of Corfu
Italian Stamps Home Page
Post Offices Index
Former Austrian Territories Index
---
Stamps of Italian Post Offices - Dalmatia etc.
Copyright reserved by the author, Tony Clayton
v2 5th April 2017