Postage Stamps of Italy
by Tony Clayton
---
Occupation of Former Austrian Territories
---
Austrian Occupation of Italian Territories <<-- : -->> Venezia Giulia
Post Offices Index
Main Index
---
Trentino-Alto Adige
---
After the surrender of the Austro-Hungarian Empire in November 1918 Italy occupied a number of areas of the former Empire prior to assimilation into the Kingdom of Italy.
---
First Issue
---
The first issue, on 11th November 1918 consisted of overprinted Austrian stamps. Forged examples are known.
1 krone
Sassone 15.
Just 1100 issued.

4 krone
Sassone 17.
Just 210 issued. Courtesy of Italy & Colonies Study Circle
---
Second Issue
---
On the 6th December a new issue of Italian stamps overprinted Venezia Tridentina was made.
20 centesimi
Sassone 23.

1 lire used on piece
Note the Trento 1 postmark which has had the German text removed from the upper half
Just 5000 issued. Sassone 27.
---
Trentino-Alto Adige Provisional Postage Due Stamps
---
No official Postage Due stamps were available for Trentino-Alto Adige, so three offices, Bolzano 1, Bolzano 3 and Tirolo and Lana, issued their own provisionals.
5 centesimi of Bolzano 1
Bolzano 1 office used a T handstamp
Sassone BZ1/12.

10 centesimi
Black handstamp instead of violet
Sassone BZ1/13.

5 centesimi of Bolzano 3
Bolzano 3 office used a range of overprints
Sassone BZ3/80.

20 centesimi
Sassone BZ3/82.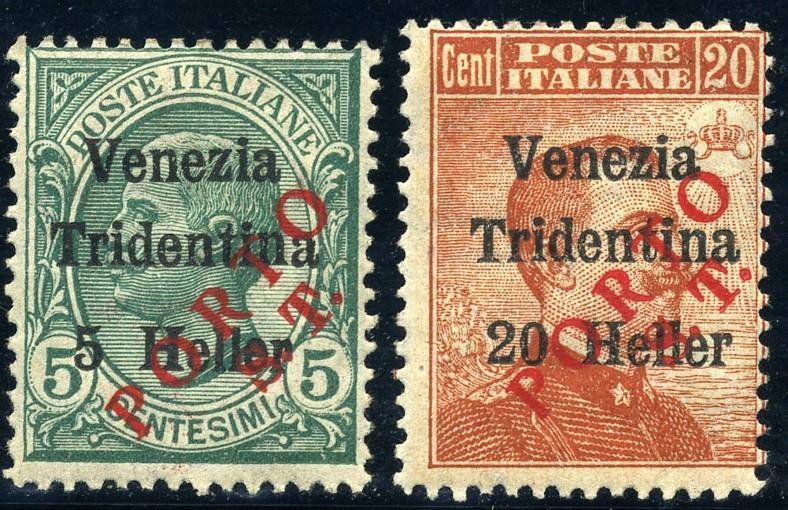 5 and 20 heller postage due provisional
Issued by Bolzano 3 office in February 1919
Sassone BZ3/130 and 132.
2 centesimi of Bolzano 3
Sassone BZ3/134.

45c on 45 centesimi
Sassone BZ3/145.

Hand stamped 5 on 2 centesimi
Sassone BZ3/134.

Machine stamped 5 on 2 centesimi
Sassone BZ3/145.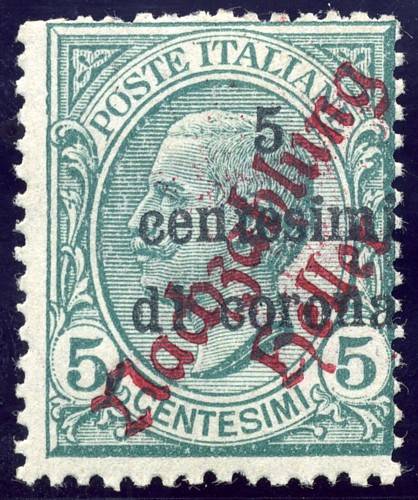 5c di c on 5c
In use for 14 days at Tirolo and Lana PO's. Withdrawn because of the use of German.
Sassone TeL/1.
---
Austrian Occupation of Italian Territories <<-- : -->> Venezia Giulia
Italian Stamps Home Page
Post Offices Index
Former Austrian Territories Index
---
Stamps of Italian Post Offices - Trentino Alto Adige
Copyright reserved by the author, Tony Clayton
v2 5th April 2017