Postage Stamps of Italy
by Tony Clayton
---
Occupation of Former Austrian Territories
---
Merano <<-- : -->> Dalmatia
Post Offices Index
Main Index
---
Trento and Trieste
---
The above two series were replaced in January 1919 by a unified series denominated in Corona which remained valid until April 1919. After that date Italian stamps in lira were used, except for Dalmatia.
The overprint was in a serif typeface, and there are many variations in the overprint, four of which are shown below.
40 centesimi di corona
'ccrona' instead of 'corona'
Sassone 7l.

10 centesimi di corona
c displaced left
Sassone 4p.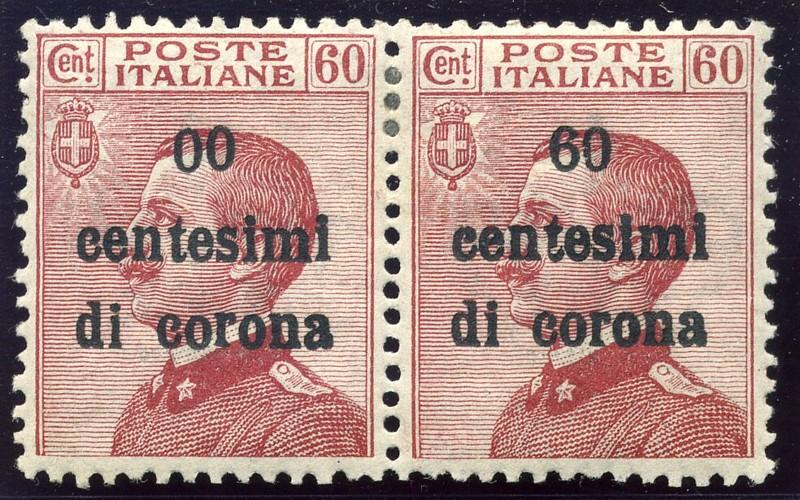 60 centesimi di corona
'00' instead of '60' error in pair with normal
Sassone 10l and 10.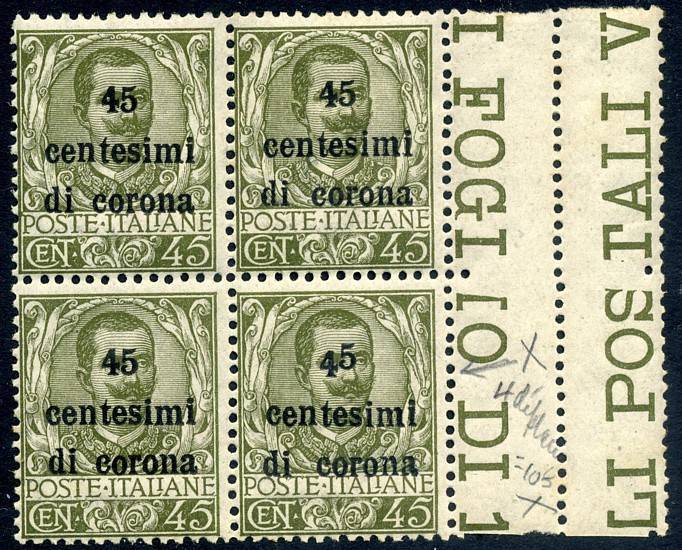 45 centesimi di corona
5 displaced up (not 4 down as written in the margin)
Sassone 8o.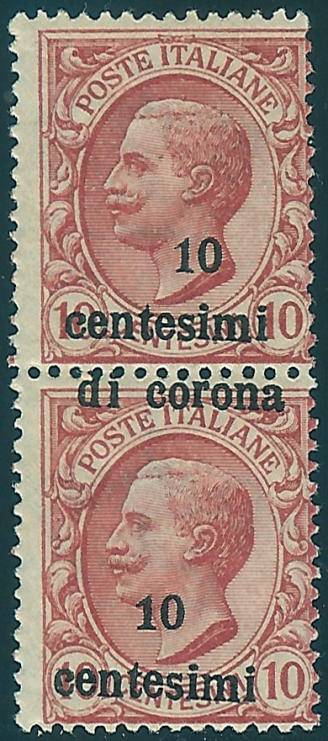 10 centesimi di corona
An interesting shift of the overprint
Sassone 4ud (upper stamp unlisted).
Image courtesy of the Italy & Colonies Study Circle.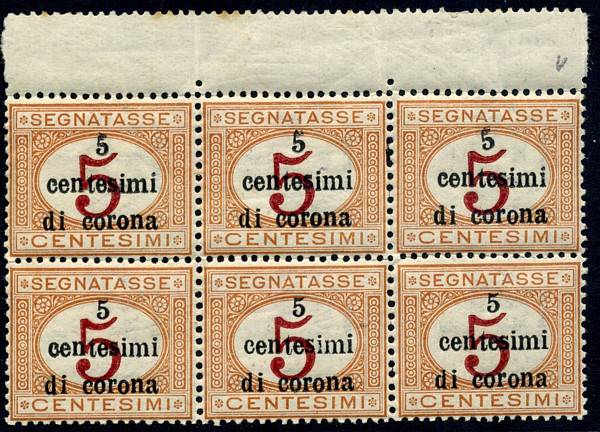 Postage Due, 5 centesimi di corona
A block of 6 with inclined 5 in sheet position 4
Sassone 1g.
Postage Due, 10 centesimi di corona
A stunning block of 4 with inverted value and overprint
Sassone 2c.
---
Merano <<-- : -->> Dalmatia
Italian Stamps Home Page
Post Offices Index
Former Austrian Territories Index
---
Stamps of Italian Post Offices - Venezia Giulia etc.
Copyright reserved by the author, Tony Clayton
v2 5th April 2017