Postage Stamps of Italy
by Tony Clayton
---
Occupation of Former Austrian Territories
---
Austrian Occupation of Italian Territories <<-- : -->> Italian Occupation of Corfu
---
Trentino-Alto Adige
---
After the surrender of the Austro-Hungarian Empire in November 1918 Italy occupied a number of areas of the former Empire prior to assimilation into the Kingdom of Italy.
The first issue, on 11th November 1918 consisted of overprinted Austrian stamps.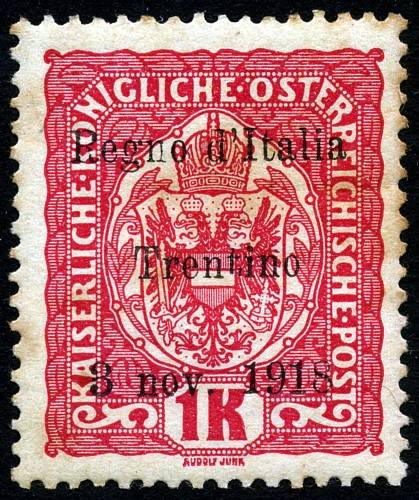 1 krone
Sassone 15.
Just 1100 issued.
On the 6th December a new issue of Italian stamps overprinted Venezia Tridentina was made.
20 centesimi
Sassone 23.

1 lire used on piece
Just 5000 issued. Note the Trento 1 postmark which has had the German text removed from the upper half
Sassone 27.
---
Trentino-Alto Adige Provisional Postage Due Stamps
---
No official Postage Due stamps were available for Trentino-Alto Adige, so three offices, Bolzano 1, Bolzano 3 and Tirolo and Lana, issued their own provisionals.
5 centesimi of Bolzano 1
Bolzano 1 office used a T handstamp
Sassone BZ1/12.

10 centesimi
Black handstamp instead of violet
Sassone BZ1/13.

5 centesimi of Bolzano 3
Bolzano 3 office used a range of overprints
Sassone BZ3/80.

20 centesimi
Sassone BZ3/82.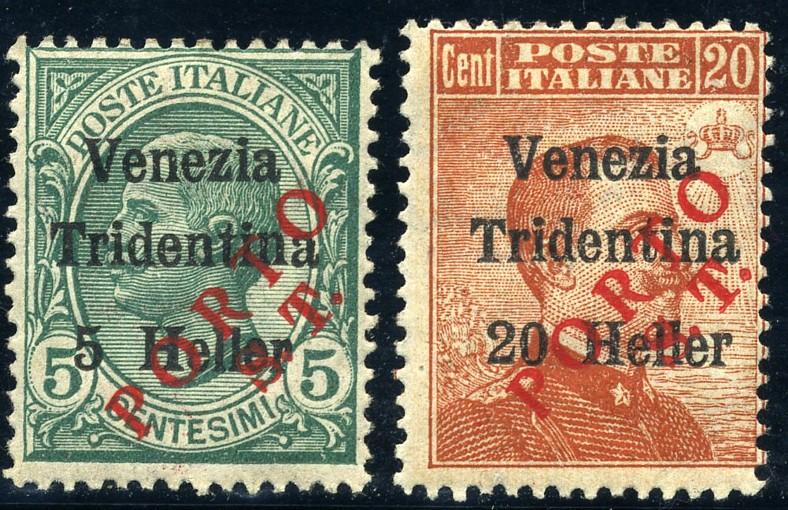 5 and 20 heller postage due provisional
Issued by Bolzano 3 office in February 1919
Sassone BZ3/130 and 132.
2 centesimi of Bolzano 3
Sassone BZ3/134.

5c on 2 centesimi
Sassone BZ3/145.
---
Venezia Giulia
---
As with Trentino-Alto Adige. the first issue, in November 1918 consisted of overprinted Austrian stamps. The 40 heller olive is particularly scarce, but not so scarce as the top four values, 2, 3, 4 and 10 kronen. The 10 kronen is exceedingly rare, as only 37 were overprinted by hand as presentation items.
40 heller olive
Sassone 10.

3 kronen rose-carmine. Variety: No stop after 18 (position 12)
Only 72 copies were printed. Sassone 16k.
---
Later in 1918 Italian stamps overprinted Venezia Giulia were issued.
The 60c value is difficult to find in fine used condition.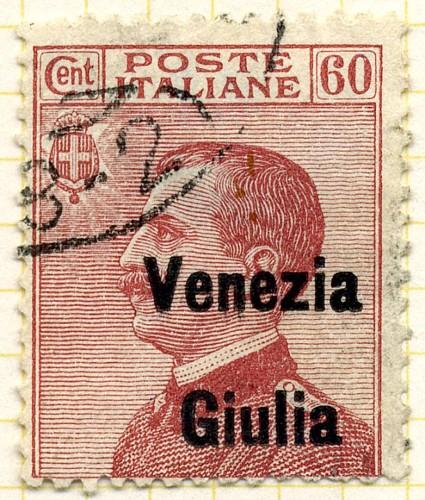 60 centesimi carmine
Sassone 28.
10 centesimi postage due with overprint displaced horizontally
Sassone 2e.

5 centesimi postage due with overprint inverted
Sassone 1a.
---
Trento and Trieste
---
The above two series were replaced in January 1919 by a unified series denominated in Corona which remained valid until April 1919. After that date Italian stamps in lira were used, except for Dalmatia.
The overprint was in a serif typeface, and there are many variations in the overprint, four of which are shown below.
40 centesimi di corona
'ccrona' instead of 'corona'
Sassone 7l.

10 centesimi di corona
c displaced left
Sassone 4p.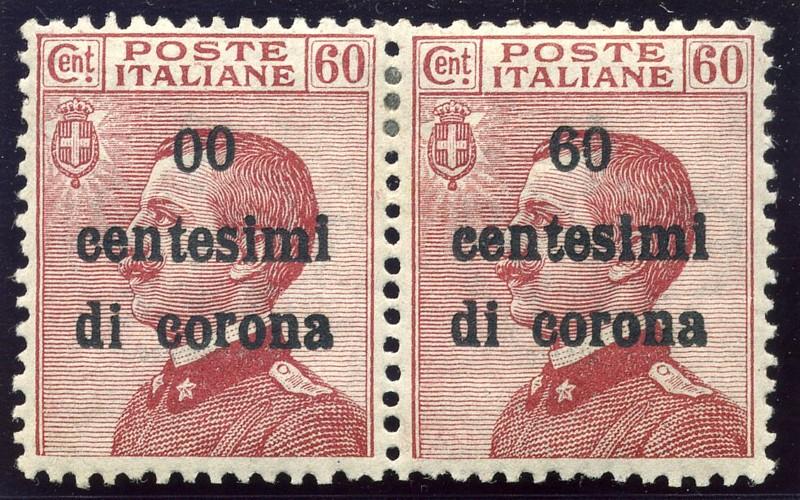 60 centesimi di corona
'00' instead of '60' error in pair with normal
Sassone 10l and 10.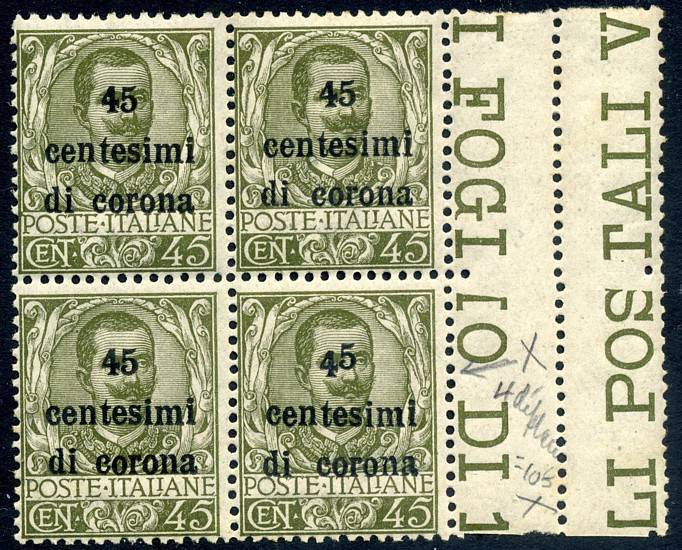 45 centesimi di corona
5 displaced up (not 4 down as written in the margin)
Sassone 8o.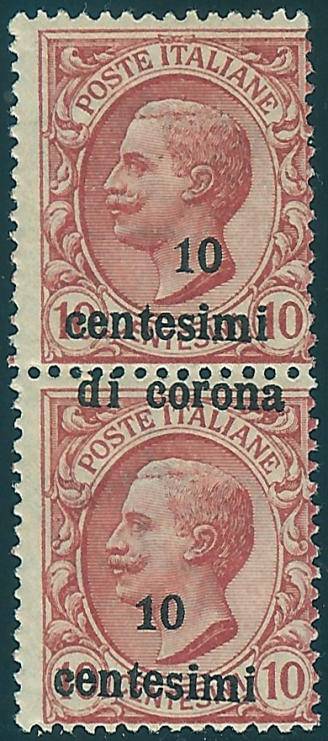 10 centesimi di corona
An interesting shift of the overprint
Sassone 4ud (upper stamp unlisted).
Image courtesy of the Italy & Colonies Study Circle.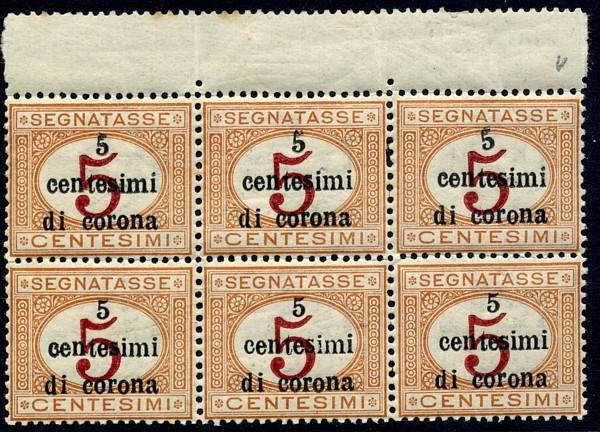 Postage Due, 5 centesimi di corona
A block of 6 with inclined 5 in sheet position 4
Sassone 1g.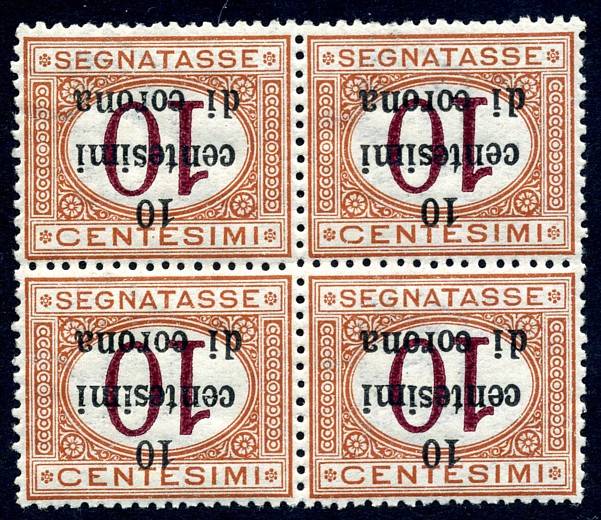 Postage Due, 10 centesimi di corona
A stunning block of 4 with inverted value and overprint
Sassone 2c.
---
Dalmatia
---
Dalmatia continued to use the Trento and Trieste corona overprints until they were replaced in 1921 by similar stamps but with the overprint in a sans-serif typeface, a common cause of confusion. The exception was the 1 corona on 1 lire, which used a 'una corona' overprint from 1st May 1919 rather than the '1 corona' used in Trento and Trieste.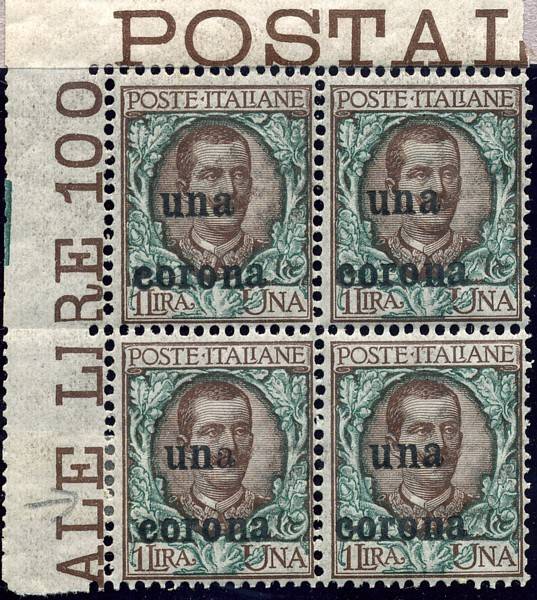 una corona on 1 lire, with an example of the 'small a in una' variety
Sassone 1 and 1b.
50 centesimi di corona
Sassone 5.

5 corona
This stamp is usually badly centered
Sassone 7.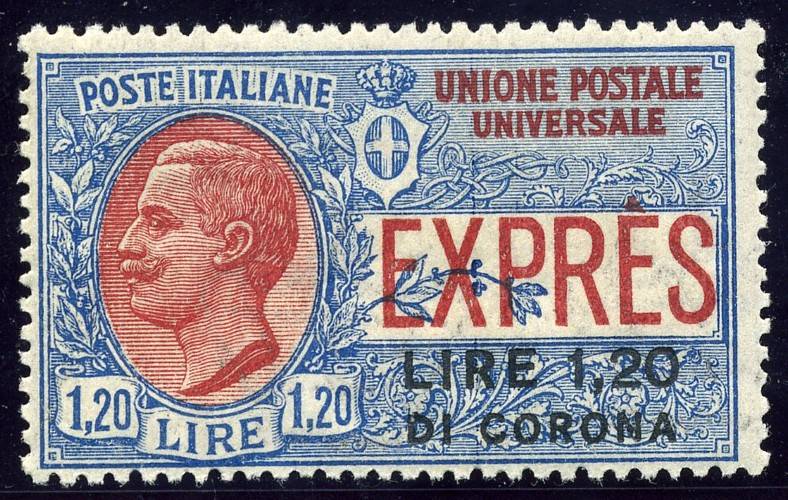 Lire 1,20 di corona Express.
This stamp was not issued as the phrase 'Lire di corona' was incorrect.
Sassone 2.
---
Austrian Occupation of Italian Territories <<-- : -->> Italian Occupation of Corfu
Italian Stamps Home Page
Post Offices Index
---
Stamps of Italian Post Offices - Venezia Giulia etc.
Copyright reserved by the author, Tony Clayton
v17 10th June 2013